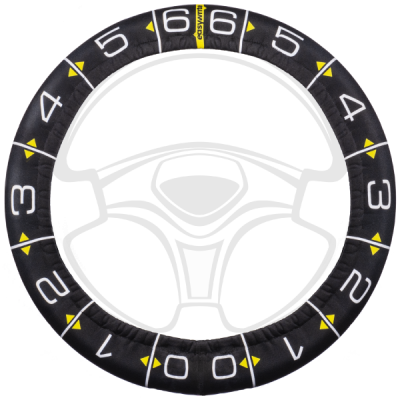 STEERING COVER
CLASSIC VERSION
+ ONLINE TUTORIAL
Launch price instead of €129,90
STEERING COVER
ARC DEGREES VERSION
+ ONLINE TUTORIAL
Launch price instead of €129,90
BUILT BY DRIVERS FOR DRIVERS
Easywrite is the new patented tool for writing pacenotes in rallies sold together with its own practice on side. A steering wheel cover that replaces the old curve naming system used by the WRC top drivers with stickers on the steering wheels and dashboards.
Easywrite allows the driver to quickly and intuitively recognize the degree of difficulty of the curves, decreasing the difficulty of identifying and writing the notes by 90%, limiting as much as possible the concentration and error drops of the driver along the most demanding special stages of the global slowdown context.
EASYWRITE acts as an objective measuring instrument able to unify the pacenotes between different crews, reducing the free vision and interpretation of the road to the minimum with the aim of creating a winning and international language accessible to all drivers.
CHRIS INGRAM, 2019 EUROPEAN RALLY CHAMPION AND SIMONE CAMPEDELLI WILL TEACH YOU IN A COMPREHENSIVE AND COMPLETE WAY TO USE THIS METHOD THANKS TO THE DEDICATED TUTORIAL.
TUTORIAL
FAST
INTUITIVE
SIMPLE
VERSATILE
A real revolution. CHAMPIONS teach you how to describe the road by writing excellent pacenotes, one of the keys to success in rallies. Easywrite is the first method in the world where the specialists of the discipline will reveal to you the "fundamental" secrets, making accessible to everyone a technique that until now has been very private and well kept by every single rally driver.
Easywrite adapts to all types of steering wheel thanks to its patented stretch and non-slip fabric and its installation on any car does not take more than 10 seconds.
The rotation of the steering wheel will determine the degree of difficulty of the curve by displaying the affected portion of the instrument on the sticker located in the center of the dashboard (driver's side).
7 angles of equal size define all the variability of the road that will arise.
a European and an Anglo-Saxon note system on the same instrument with a simple change of direction of application passing from the common EU use (6 fast curve in decreasing way up to 0 slow curve) and conversely UK use (1 fast curve in increasing way up to 6 slow curve).
THE VERTICAL MARKER IS NOW AVAILABLE!
Launch price instead of €12,90